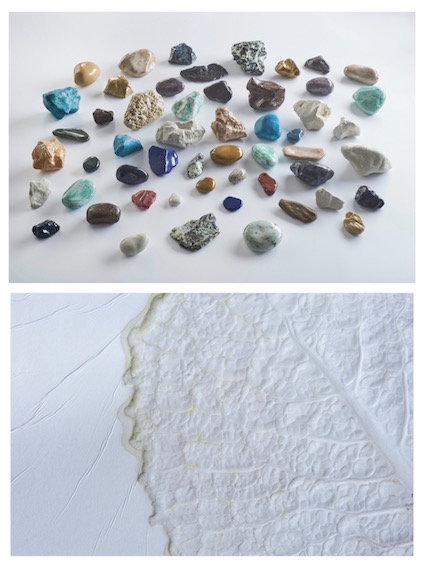 Thomas Eyck presents "set of stones" & "fossils"
"set of stones" by studio Brynjar & Veronika

For this years presentation, Thomas Eyck invited Studio Brynjar & Veronika, a German Icelandic studio based in Berlin, to work on a project for his new collection. Their underlying interest in natural stones and minerals led them to work on a set of handmade porcelain stones. The result is a collection of 53 different stones that form together smaller families of stones in different shapes and sizes. Each stone arrives a a unique glazing that blurs the borders of reality and fiction, the natural and the artificial.

"set of stones" is produced in a limited and numbered edition of 99 stones each, offered in wooden boxes and by piece.

"fossils" by Alegría van der Zande

With her project "fossils" the young artist Alegría van der Zande (1988, breda) embarks on a journey to search for the small wonders in nature: wild flowers, plant, vegetables, twigs and seeds from your everyday environment. During her graduation at the University of Arts Utrecht she developed a technique to press botanical elements in leather, creating all unique contemporary fossils. The final result is influenced by among others pressure force, pressure temperature, thickness of leather and humidity of the flora. Each item has its own recipy.

"Fossils" shows us the value of seeing the finest and delicate beauty of nature that daily surrounds us, but which we don't always observe anymore. The combination of the raw leather and the aesthetic lines and subtle colours of the flora results in an astonishing contrast between the harsh leather and the graceful details of the flora. with the passing of the season the design change too, following the rhythm of nature.

visit us during salone del mobile. april 04/09. at spazio rossana orlandi.
via matteo bandello 14-16. open from 9:00 to 20:00 daily.

supported by Creative Industries Fund NL.