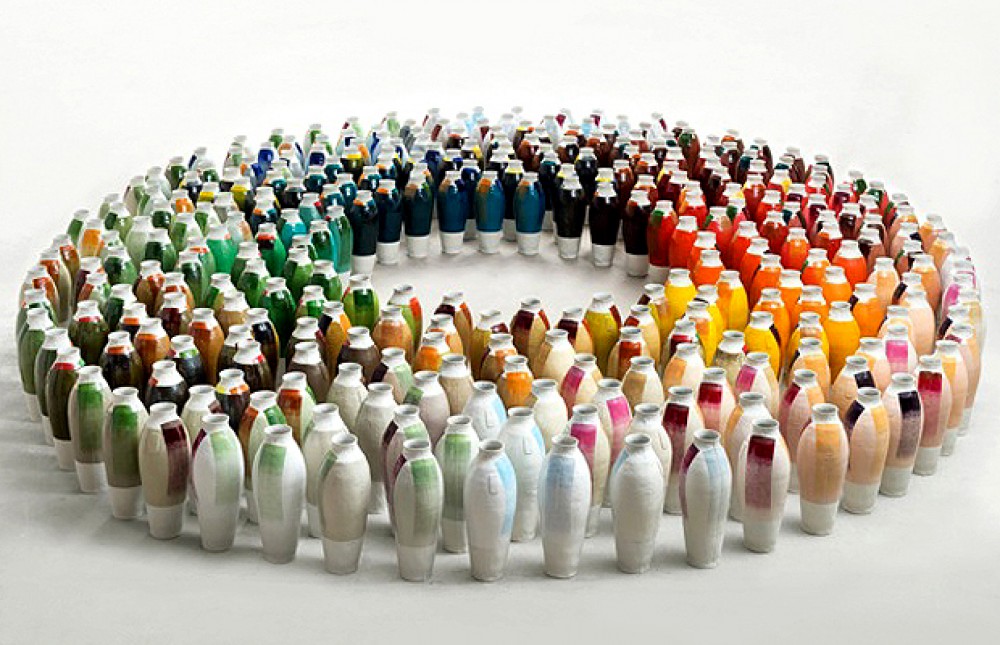 t.e. 144
thomas eyck is pleased to present an exclusive series of vases designed by Hella Jongerius. She has become known for the way in which she fuses industry and craft, high and low tech, the traditional and the contemporary. For some time, Jongerius has been occupied with an intensive research project on applying colours to ceramic materials. Jongerius has produced the Hella Jongerius: Misfit Collector's Edition: 300 unique porcelain vases, each made with great artisanal skill and technological sophistication in collaboration with the venerable Dutch ceramics house Royal Tichelaar Makkum. Each vase is an object of exceptional concept and beauty.

This set is the culmination of Jongerius' experimental studies with lacquered pigmentation, in which the porcelain vase has served as a 'canvas' for 'Toyota red' spraypaint (Red White Vase, 1997), forty industrial colours from the Central European standard RAL colour range (Coloured Vases, Series 1, 2003), and selections from the Scandinavian Colour Institute's Natural Colour System (Coloured Vases, Series 2, 2007). In this, the third version of 300 Coloured Vases, each vase was fired three times under a unique mix of 100 natural mineral glazes and 100 synthetic materials, yielding remarkably deep textures and vibrantly merged colour combinations that are reminiscent of the colour intensities of old paintings.

The Hella Jongerius Coloured Vases, Series 3 is a rare opportunity to own a genuine limited edition of a Hella Jongerius' experimental design. Each comprises a special edition of a book, designed by Irma Boom. It is beautifully bound, individually signed and numbered and presented in a custom-made box, together with an original work of art also signed and numbered by the artist.

all 300 vases are sold, sorry for that.


choose a variation