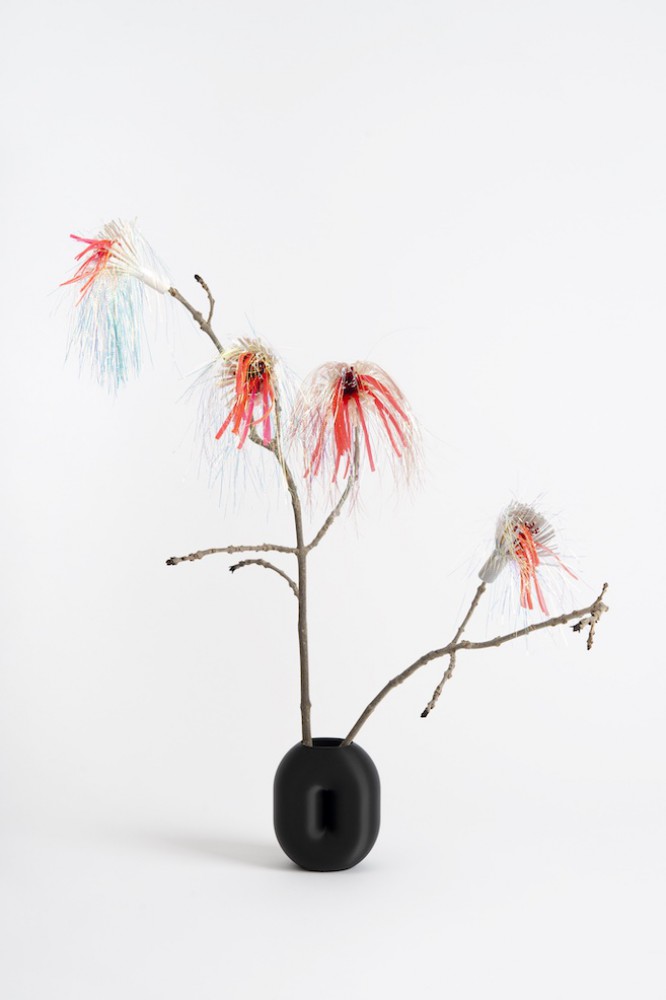 t.e. 233 - flower No. 3
2m2 flowerfield
flower No. 3
size: approx. 70-90 cm
material: brown paper, red latex, translucent white paper, iridescent thread, wooden branch
limited edition of 7 + 3 artist proof
In almost all cultures, flowers have become synonymous with our understanding of beauty and elegance - even the simplest of bouquets can bring joy to our domestic interior. The symbolic and meaningful role that flowers play in society has always fascinated Carole. Vibrantly blooming flowers tell a story of appreciation and admiration without the need for words.
The different phases of a flower's life - from awakening green buds to dried-out petals and everything in between - are the starting point for this project. The ready-made flower field shows a series of experiments that reflect Baijings inspirational universe, built from a variety of sources.
Mundane objects found in Baijings daily life or collected throughout years of travelling are combined with samples from her atelier.
Through a whimsical lens Carole has assembled this flowerfield.
Multimedia and layered approach combines traditional methods with new media and innovative techniiques with craftmanship. Some flower parts are 3D scanned and printed with recycled platsic yarn, while petals are thoroughly examined and hand created in textiles.
note: flower No. 3 comes included with vase lucent 5
delivery time: 4 weeks
€

2,526.00
amount
€
2,087.60 for customers outside the EU during checkout
other variations