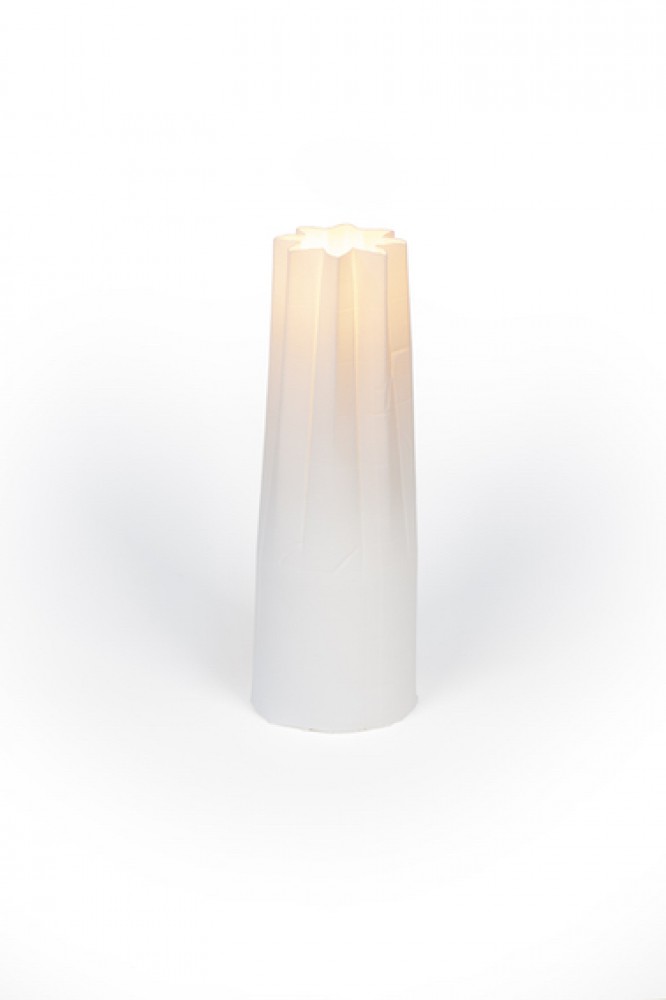 t.e. 237
sunday morning
guus kusters
Within Foyer Brisé (translated: broken home, broken hearth, divorced family) Kusters continues to search for the value of transience and decay in products and manufacturing using brokenness as a starting point for an object.
The decay of the product is completely intertwined in the designed manufacturing process.
The lantern is handmade. First rice paper is pleated. This is done in two directions, folded flat and glued into a tube.
The tube is placed in a plaster mold and the bone china is poured into it. Due to the wet clay, the lantern unfolds and takes on the shape of the mold, but retains the paper folds. The paper burns away in the oven. Each lantern is therefore literally unique, because the paper always unfolds differently.
When a dinner candle is placed in the stoneware holder and the lantern is placed over it, the flame initially comes out just above the lantern and slowly sinks lower and lower which gives a beautiful playfull effect.
The title originates from the song 'Sunday Morning' by The Velvet Underground
size approx. 7 x 28 cm - stoneware candleholder included
delivery time: 2 weeks
€

198.00
amount
€
163.64 for customers outside the EU during checkout
related products