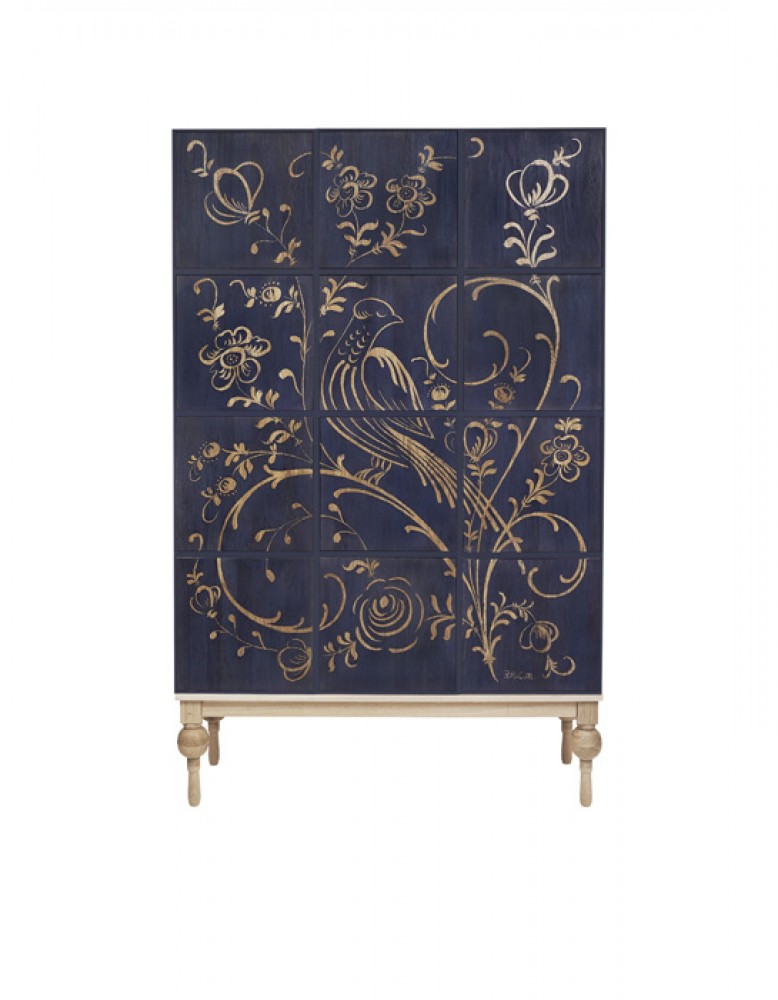 oak wood
christien meindertsma - oak wood
thomas eyck introduces "oak inside", a new collection designed by Christien Meindertsma in close collaboration with
Roosje Hindeloopen
. Meindertsma created eight contemporary interpretations of four hundred years-old Hindeloopen tradition. She combines traditional craft techniques with a new way of looking at traditional patterns and form that results in cutting edge furniture.
Hindeloopen has a rich history of painted furniture and objects that dates back to the Golden Age. Situated on the former Zuiderzee, sailors of Hindeloopen undertook journeys to the North and Baltic Sea coast. These strong overseas connections with the Scandinavian countries led to the famous Hindeloopen style: colourful furniture, fully decorated with flowers, birds and garlands.
After comprehensive research into the history of Hindeloopen craft, Meindertsma decided to reintroduce oak, the wood that was used in the early years before oak was levied with a possession tax. She discovered that oak turns dark blue when threated with iron. Through using this natural method of colouring, Meindertsma created another astonishing new dimension to the Hindeloopen Style.
"oak inside" consists of a table, chairs, cupboards, stepladder,box, spicemills and rugs and is recognisable as the typical work of Meindersma. The form of the chair gives an inside in the construction. In the table, the precisely painted motifs of the past now give way to a pattern of iron tools that are used for producing it. The pattern used in the stepladder now forms the ladder. The design of the spice-mill is inspired by the construction part of the traditional table. All colours used for the wooden parts are produced with 100% natural pigments, common for the 17th century. For the woolen seats and rugs only natural dyes are used to achieve the best tone colours (
tinctoria
). In "oak inside" Meindersma´s preference for knowing where things come from and how they work is cleary present.
please click on the images below for more information about prices, sizes and delivery time